Agriculture
Agriculture - Vineyards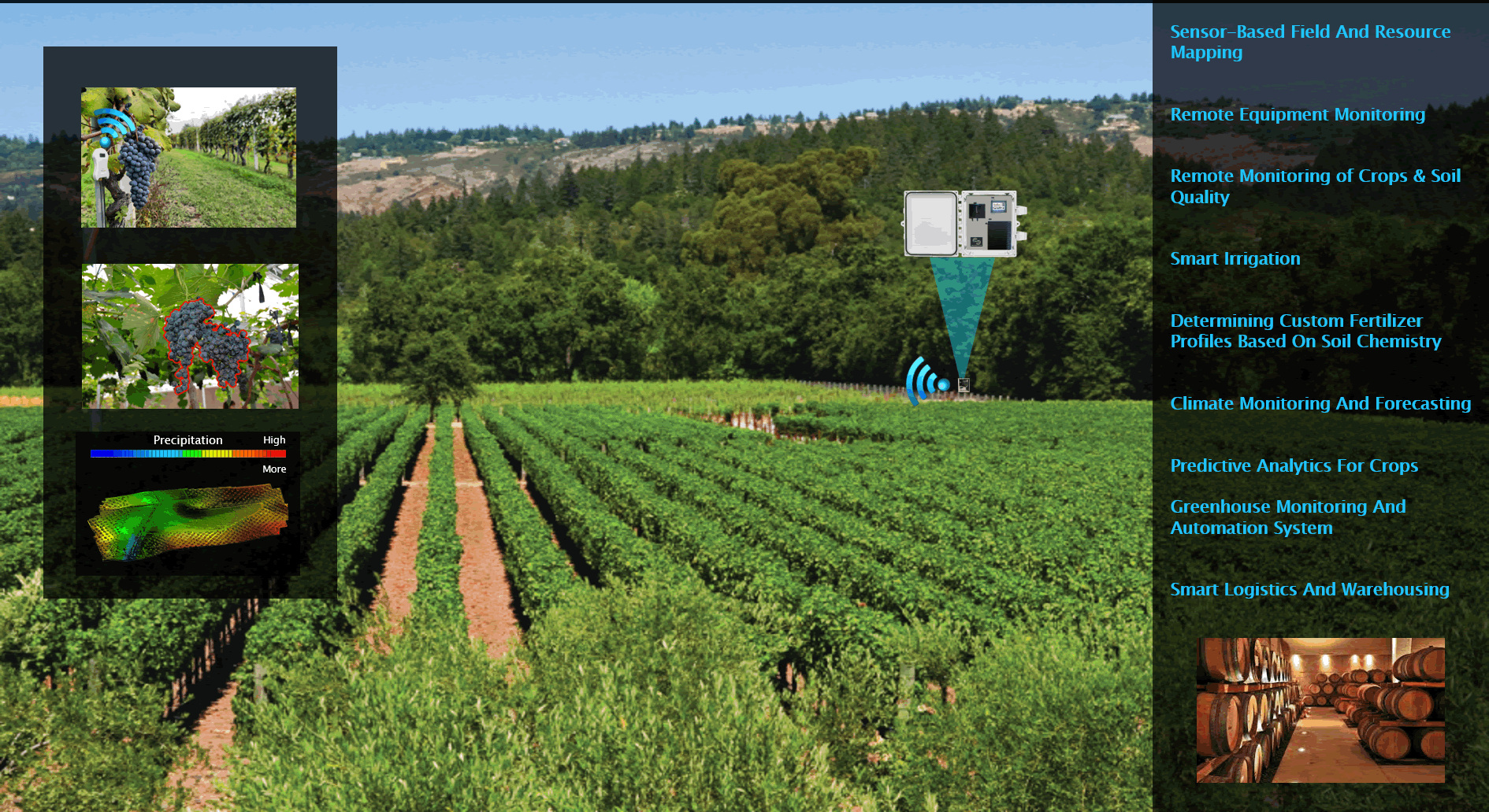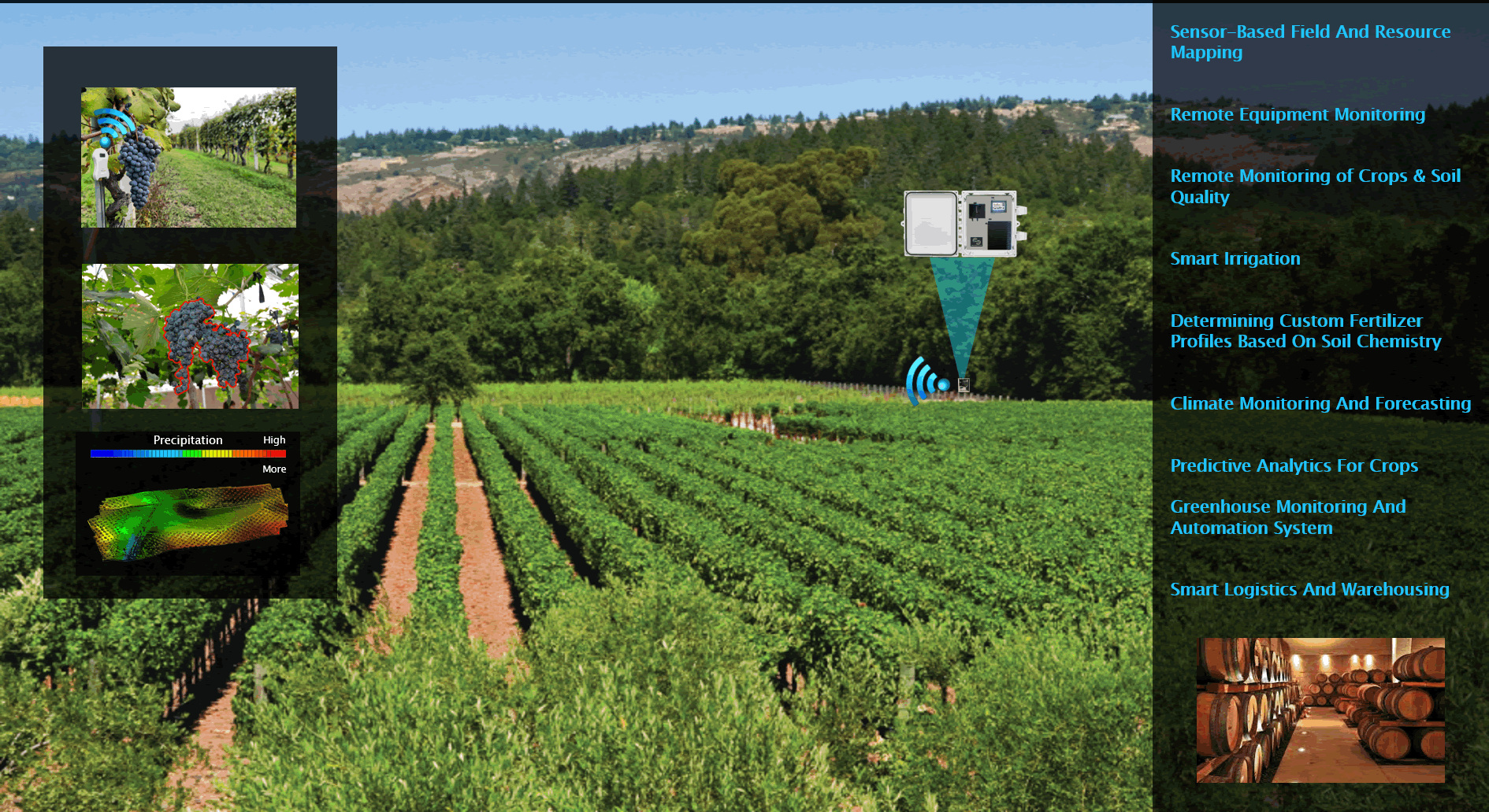 Agriculture Challenges:
Agriculture Challenges:
Challenges that face agriculture over the next 50 years include population growth, especially in developing countries. Global food demand is increasing as a result. Climate change challenges agricultural practices and urbanization increases the distance that food travels to reach the kitchen table. Water quality and availability threaten current agricultural standards.
Agriculture occupies nearly 40% of the surface of the earth, far more than any other human activity. Irrigation of agricultural crops comprises 70% of global water use, and agriculture directly contributes to around 11% of global greenhouse gas (GHG) emissions (mostly through cattle).
To continue feeding the world without damaging the environment is one of the greatest challenges faced by society and can only be achieved by increasing the efficiency and sustainability of agricultural production.
Smart Farming offers the potential to identify, analyze and manage variables in crop and livestock production enabling informed production decisions at the right place and time and in the right way, for optimum profitability, sustainability and protection of the land and livestock resource. Smart Farming is a management concept using modern technology to increase the quantity and quality of agricultural products compared to traditional cultivation techniques.
Although Smart Farming has been used for over 25 years there are still challenges around its developments;
The ability to determine the efficient use of farm inputs; especially nitrogen fertilizer given the costs are constantly increasing

The use of right source and amounts of nutrient which require sensors that employ uniform application and identify various unique nutrient deficiencies

Quantifying spatial variability in crops and soil properties with smart sampling, soil electrical conductivity measurement, site specific measurement and grid soil sampling

Remote-sensing technologies placed on fertilizer applicators that can variably apply fertilizer in real-time has been around for more than half a decade however, their adoption has not been fast.

A significant opportunity exists for advancement in technologies that can efficiently help in estimation of the right amounts of nutrients that would result in increased food supply and reduced negative environmental impact.

Enabling a reduction of feed intake per animal while also maximizing individual growth rates by provision of the right amount of feed, in the right nutrient composition, at the right time, and for each animal individually.
The Benefits of Smart Farming:
Agriculture Solutions:
Although Smart Farming has been used for over 25 years there are still challenges around its developments;
Data collected by Smart Farming sensors, e.g. weather conditions, soil quality, crop growth progress or livestock health. This data can be used to track the state of the business in general, as well as staff performance, equipment efficiency, etc.

Better control over the internal processes and, as a result, lower production risks. The ability to foresee the output of production allows planning for better product distribution.

Cost management and waste reduction thanks to the increased control over production. Being able to see any anomalies in the crop growth or livestock health, will allow farmers to mitigate the risks of losing their yield.

Increased business efficiency through process automation. By using smart devices, farmers can automate multiple processes across production cycles, e.g. irrigation, fertilizing, or pest control.

Animal health and welfare monitoring can decrease production efficiency of livestock with more performance-related data collected from the animals, for example through cameras and image recognition software, wearables, as well as weight or sound monitoring.

In addition, data from livestock facilities can also help to improve animal health, for example through climate, air quality and ventilation monitoring.

Enhanced product quality and volumes would achieve better control over the production process and maintain higher standards of crop and livestock quality and growth capacity through automation.
The Industrial Internet of Things can bring broad efficiencies to the agricultural sector and creates a virtuous cycle that makes food products more readily available to consumers, saves farmers time and money, and lessens the environmental impact of farming by driving sustainability into the process.
Zotera Smart Farming Solutions:
Farming must undergo a major transformation in the coming decades in order to meet the intertwined challenges of achieving food security, reducing poverty and responding to climate change without depletion of the natural resource base.
Our Smart Farming approach drive farming efficiencies, effect better-quality crops & livestock, and to improve food production cycles.

Our solutions introduce data-driven farming operations to produce higher yields with better quality.

We present innovative methods for irrigation controls, pest & disease management, monitored & controlled mechanization, supply chain integration, etc..

Zotera Smart Farming solutions are designed to support:

Sustainable growth and the ability to exceed the current crop production.

Enhanced resilience and adaptation: the ability to produces hardier crops that can better withstand fluctuations in weather, quality of soil, and quantity of water.

Crop diversification or mixed farming systems as a potential for increasing revenues for farmers

Depending on the type of farming involved, special sensors are deployed to collect data regarding soil and crop behavior, weather conditions and forecast, animal conduct, machine & vehicle status, storage tank, and outbuilding status from remote sites.

A remote eye in the field or eye in the barn makes monitoring possible in real time allowing farmers to detect signs of disease in crops and animals much more than they would otherwise.

Sensors can be deployed across farm and farming machineries in order to enable farmers to gain insightful data, such as the temperature of stored produce, the amount of fertilizer used, the amount of water in the soil, the number of seeds planted, storage conditions, the status of farming equipment and machinery in use, and to track the movement and behavior of livestock remotely via cameras, and embedded devices.

Our Industrial solutions can also be deployed for monitoring indoor agricultural facilities such as, greenhouses, silos, dairies and stables.