COVID-19 Emergency Response Requires Secure, Rapid-Deploy Networks
With the Covid-19 Pandemic forcing Healthcare industry to re-evaluate the way it treats and monitors patients.
The need for a centralized secure internet connectivity and the ability to connect various equipment from Video Phones, testing or monitoring equipment can now be securely connected to the internet allowing Medical Professionals a safe way to monitor patients without having to physically be there.
The ability to pull historical data and possible past video or audio events can clarify what had happened prior to the alarm condition. The ability to monitor patients at home or at Assisted Living can allow Doctors or Family members to monitor their family members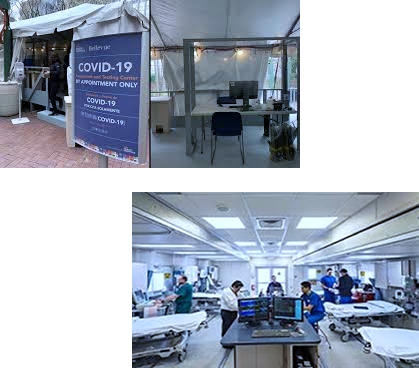 Unprecedented Crisis Requires Unprecedented Demand for Network Connectivity
Effective COVID-19 response requires an emergency network solution designed to utilize LTE and FirstNet cellular networks and optimized for speed, simplicity, scale, and security.
Many aspects of the COVID-19 pandemic and the global response are unprecedented. The on-site networks that support enterprises and federal, state, and local emergency responders combating the pandemic are as life-saving as the medical testing, diagnostic, and treatment systems they support. For organizations contending with a massive shift to work-at-home employees, first responders setting up mobile command centers, and healthcare specialists working in a wide range of locations, secure data connectivity and networking is essential to effective emergency response.
During a crisis, traditional networking takes too long to deploy, requires too much expertise to build and manage, and is too complex to effectively address the breadth and urgency of emergency response use cases.