Zotera™
Smart Video Surveillance & Analytics System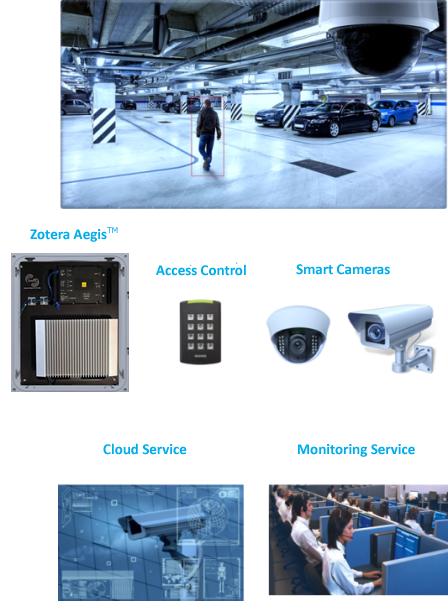 Zotera™ provides high definition video streaming and edge analytics for a wide range of applications that include security and surveillance, IIoT machine vision, object detection, analysis and identification, pattern recognition, facial recognition, and geo-fencing.
The Zotera™ Video Surveillance System uses professional surveillance cameras: that provide high quality HD images for demanding security and surveillance network requirements.
Offers excellent performance day or night.
Built-in video analysis reinforces the Intelligence at-the-Edge
Reliably detects, tracks, and analyzes objects, and alerts are sent when predefined alarms are triggered.
Captures more details in the highlights and in the shadows even in the same scene.
Intelligent streaming reduces bandwidth and storage requirements.
Area-based encoding reduces bandwidth.
The innovative multi-streaming feature delivers various H.264 or H.265 streams together with an M-JPEG stream.
Two-way audio allows the operator to communicate with visitors or intruders.
Alarms signaling for camera tampering.
Cloud-based services
Zotera™ has created the ability to use cameras as a sensor using Intel Deep Learning Video Analytics OpenVINO™ (ex. Disease detection in crops, weight and size of livestock, detection of water levels in water conveyance scenarios, other measurements that require visualization, etc..

OpenVINO™ allows the overlay of Visual Analytics onto a Video Management System and is designed to speed up the execution of AI algorithms for real time feedback of actionable intelligence.